Features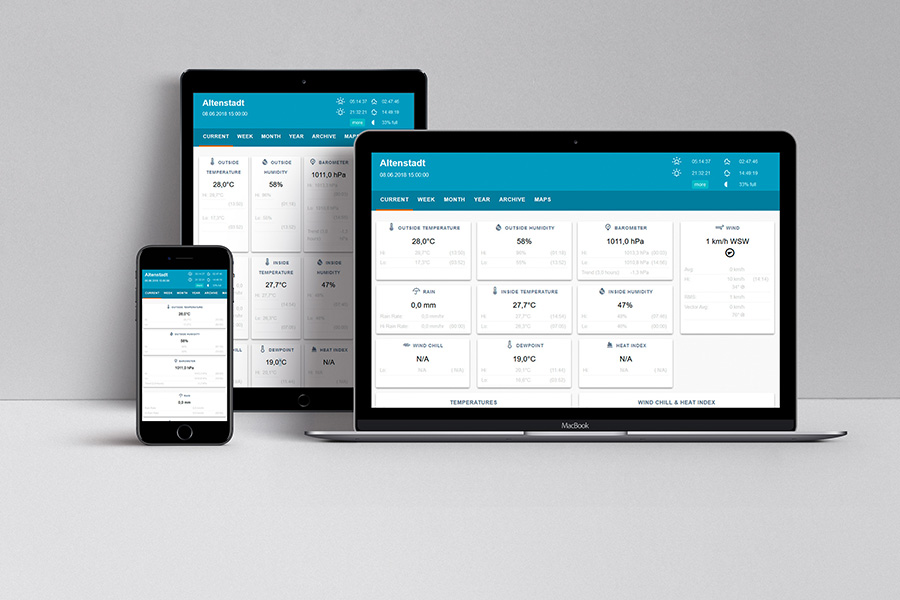 Fully responsive
Your weather everywhere
NeoWX is fully responsive, so it looks beautiful on all of your smartphones, tablets and computers.
---
Many professional details
Stunning Graphics
Wind direction and moon phases as icons. Big graphs with more details. And much more.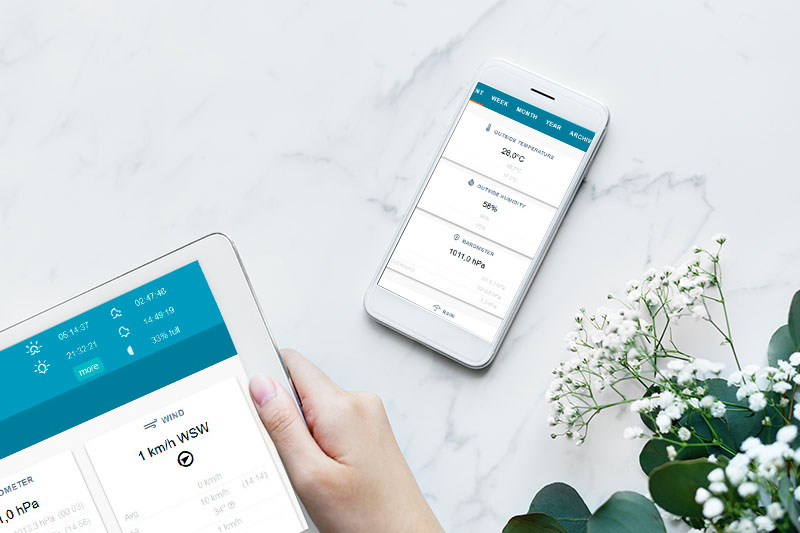 ---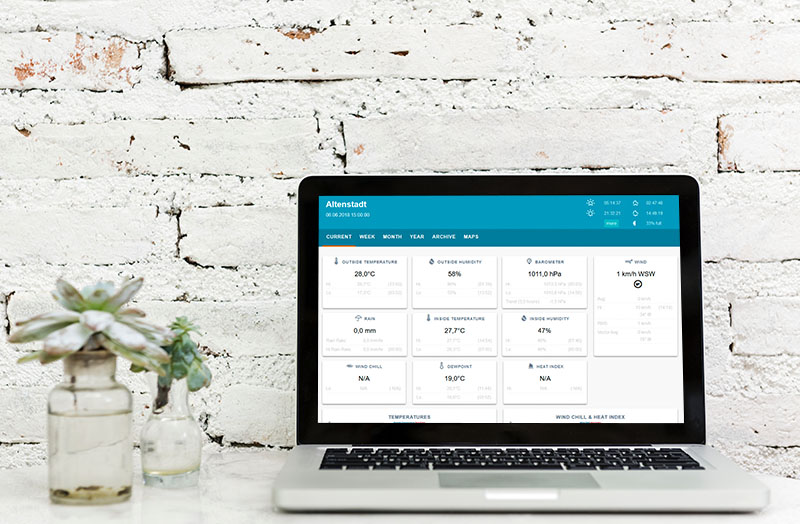 Everything you need
At a glance
All information of your current weather conditions on one screen.
📐
Customize
It's easy to change colors, fonts or the general appearance. Everything is well documented.
📱
Web App ready
NeoWX is web app capable so you can start it on your smartphone or tablet like any other app.
🧭
Unique dashboard
With the new dashboard you have a perfect overview of your current weather conditions.
📈
Big graphs
Weewx generates extra big graphs with a great font for best readability and precise information.
📄
Classic summaries
NeoWX also generates the well known standardized meteorological summaries.
🤩
Much more
We will add some more features soon. Stay tuned!
Frequently Asked Questions
How do I install NeoWX?
First download the latest version and put it on your linux machine where weewx is running. Then install it via wee_extension : wee_extension --install=neowx-1.0.zip.
Edit the weewx.conf (located in most cases at /etc/weewx/weex.conf or /home/weewx/weewx.conf) section [StdReport] -> [[StandardReport]] -> skin (ca. line 149) and set skin = neowx. Restart weewx sudo service weewx stop && sudo service weewx start. You may need to wait 5 or 10 minutes until changes appear (depending on the set update interval).
How do I uninstall NeoWX?
Just use wee_extension again: wee_extension --uninstall=neowx. But you can also manually change the skin defined in weewx.conf and remove the skin/neowx directory.
How can I add a forecast?
Good forecasting is currently not possible with weewx out of the box (this has nothing to do with this skin). You can use external sources and add them manually to NeoWX. You can find many informations on the forecasting page in the weewx wiki.
Why is my almanac very short?
The big almanac is only available if you have the pyephem module installed. You can install it via pip install pyephem on the command line.
How do I add the web app to my android homescreen?
Open the webpage of your weewx installation with your installed neowx skin in chrome. Then go to the menu and tap on "Add to homescreen". You can find more detailled instructions here.
How do I add the web app to my iOS homescreen (iPhone / iPad)?
Open the webpage of your weewx installation with your installed neowx skin in safari. Then tap on the share button and tap on "Add to homescreen".
The graphs don't show any text or scale
Make sure that you have the Roboto font installed on your system. Have a look at the skin.conf at the [ImageGenerator] section starting at line 341. There you will find the paths to the used fonts. Adjust them as necessary or change the font to an existing one.
How do I translate this skin?
Just go through the skin.conf and change all text values in the "Translation" section starting at line 33. If some graphs still don't show the correct text, you might need to check your weewx.conf.
Download
Download the
latest version
↓ Free Download
Are you happy with NeoWX for weewx?
Buy us a coffee if you want to support our development!
💸 PayPal Donation
You can also send us some BTC or ETH to help us creating even more awesome stuff!

BTC: bc1qfusx8hpmewvh7wm8xjfwx2u4vqjmgj9p0aper9
ETH: 0x287Ffa3D0D1a9f0Bca9E666a6bd6eDB5d8DB9400
Found a bug or have troubles setting up NeoWX for weewx?
Email us at or create an issue in Github.
💎
Made in Frankfurt, Germany