==> Features <==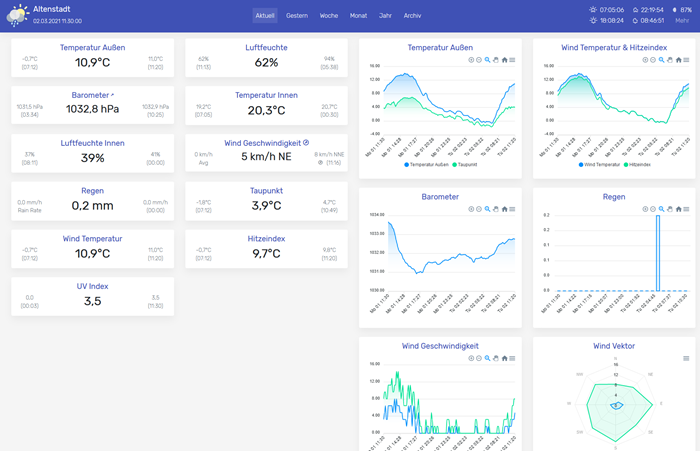 Your data
Easy overview
See all current values, highs, lows and important data on one page. Archive pages show the average value in the middle.
---
Many features
Interactive Graphs
Discover values on hover or tap, zoom in the graphs and experience a new way to interact with your weather data.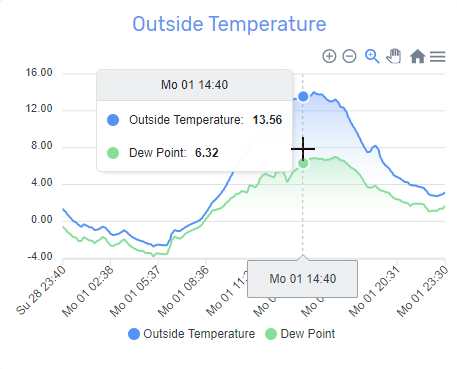 ---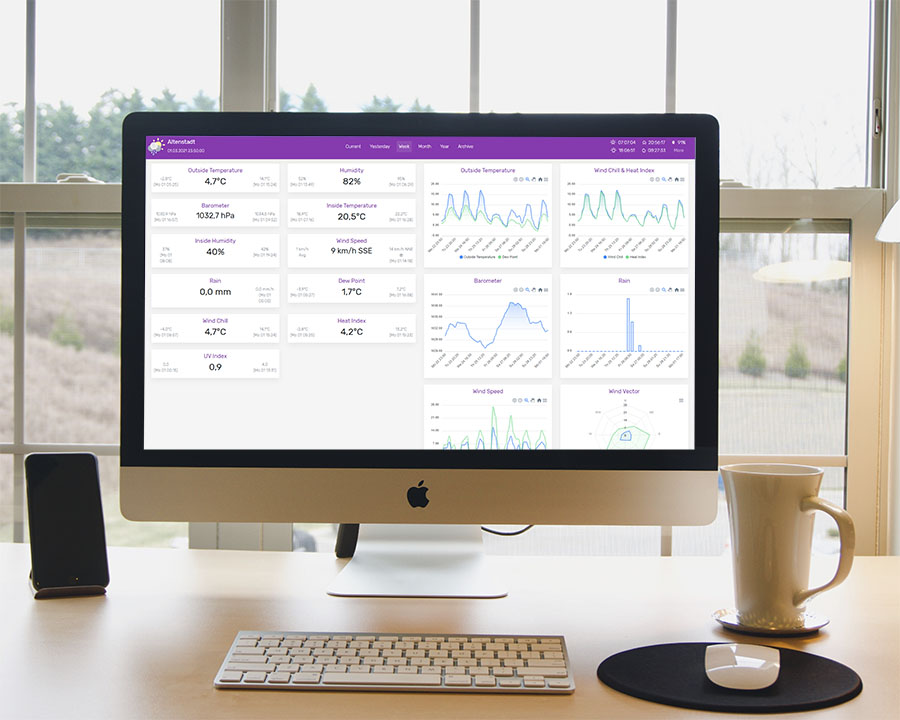 Everything you need
Special Full HD layout
All information of your current weather conditions on one large dashboard. Optimized for large Full HD / 2K displays.
---
Vibrant styles
Themes & Dark Mode
Choose from 19 different color themes. The light / dark mode is automatically set, like on most modern apps. You can adjust many things in the skin.conf.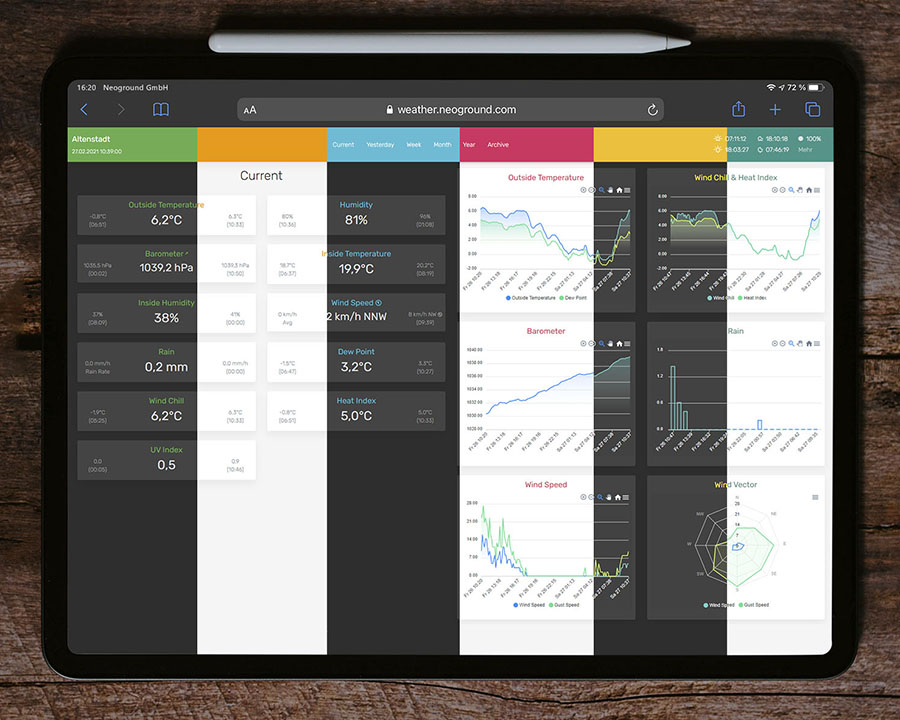 📐
Customize
It's easy to change colors, texts or the general appearance. The skin.conf includes many comments and features.
📱
Your Weather App
NeoWX Material is a responsive web app so you can easily add it to your smartphone or tablet.
🧭
Unique Dashboard
With the new Full HD dashboard you have a perfect overview of your current weather conditions.
📈
Best Charts
Great charts on any device. You can even export all values / graphs as CSV, PNG or SVG.
🗄
Accessible Archive
Browse through all available yearly and monthly reports. Easily accessible at the "Archive" tab. NeoWX also generates the well known standardized meteorological summaries.
🌐
Easy Translation
Translations are easily done. Many languages are already provided in the skin.conf.
🔭
Astronomy
An extensive almanac page shows you many insights to the current sky and shows the next important dates. This needs the pyephem module.
🎏
Wind Rose
The wind vector is shown as an easy understandable wind rose. All wind directions are also shown with an indicator.
🤩
Much More
Do you want any more features? This project is actively maintained - just message us or create an issue on Github!
==> Live demo of NeoWX Material <==
Try it out. Our official weather station at our headquarter is updating
our English and German weather site every few minutes.
You can also access our full weather archive.
==> Learn more about this skin <==
A detailled documentation is available for this skin. Check it out:
==> Frequently Asked Questions <==
->> How do I install / uninstall this skin?
See the quick start guide in the documentation for easy installation. It's done in a few minutes.
->> How can I add a forecast?
Good forecasting is currently not possible with weewx out of the box (this has nothing to do with this skin). You can use external sources and add them manually to NeoWX. You can find many informations on the forecasting page in the weewx wiki.
->> How do I add the web app to my android homescreen?
Open the webpage of your weewx installation with your installed neowx skin in chrome. Then go to the menu and tap on "Add to homescreen".
->> How do I add the web app to my iOS homescreen (iPhone / iPad)?
Open the webpage of your weewx installation with your installed neowx skin in safari. Then tap on the share button and tap on "Add to homescreen".
->> Where do I find battery status or signal quality?
Telemetric data (signal quality, battery status of all sensors, voltages) is available on the telemetry page. Simply click on "Telemetry" in the footer.
==> Download <==
Download the
latest version (1.11)
↓ Free Download
Are you happy with NeoWX Material for weewx?
Buy us a coffee if you want to support our development!
💸 PayPal Donation
You can also donate us some cryptos to help us creating even more awesome stuff!
| | |
| --- | --- |
| BTC: | bc1qfusx8hpmewvh7wm8xjfwx2u4vqjmgj9p0aper9 |
| ETH: | 0x287Ffa3D0D1a9f0Bca9E666a6bd6eDB5d8DB9400 |
| LTC: | ltc1qs0dgp20m887catw8zpjfzedrk9j5vtk65l76ze |
| DOGE: | DTA6gkDCp1WncpoFJghzxCX7XPUryu61Vf |
Found a bug or have troubles setting up NeoWX Material for weewx?
Email us at or create an issue in Github.